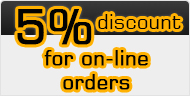 PINASCO FLYTECH STARTER (12V 90W) FOR APE 50 WITH ELESTART (CONE 20) - 1.5KG
Use Mouse Wheel to Zoom In/Out
Price:

396,50 €

Discount 21.2%

312,25

€

Incl. VAT (22%)

Freight costs:
Item code:
EL48750
OEM ref.:
25356857
Brand:
Availability:

Available

Quantity:
Users feedback
Description
Pinasco has developed for all Piaggio APE fans an electronic variable ignition 12V with electric starter. The new Pinasco Flytech for Piaggio APE is perfectly interchangeable with the original electrical system without any changes, it keeps the reversibility and it's supplied with all installation accessories. The flywheel is available only with cone diameter 20mm.
The customers that have purchased this product, have also chosen these items
Shopping cart
Your shopping cart is empty.